Service Remiders
We work within a 3hour Arrival Window.
We charge Hourly Rates for Picture hanging & Moving,
Flat rate services has service charge included.
Payment is due onsite at the end of Service.
Get Quote
Picture Hanging Services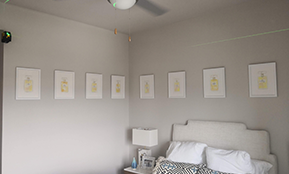 Our professional Art Installers/Picture Hangers have installed anything you can imagine hanging from your walls. When experience is what you need we are the company you need. Our Art Installers/Picture Hangers have installed everything from Family Photos to Metal Sculptures for our Clients.
Our Wall Hanging Service:
Framed Art
Secured Art
Clocks
Furniture
Mirrors
Bathroom Accessories
Interior Decorator Service Provider –We work with some of Atlanta's most well known Interior Designers. Need a reliable Service Provider? contact us
Our 2 man installation is perfect for the new home owner. We provide two insured, qualified, strong and well equipped professional's who can hang anything you want like pictures, curtains, blinds, art, tv's towel bar's weight equipment, storage systems. You even receive discounts on furniture assembly.
We are not Handymen - we are your "Interior Enhancement Specialists"
The 3 man installations are great for the large homes or jobs that require heavy or high lifting of heavy items.
Examples include but are not limited to; over sized heavy mirrors, heavy decorative art like tapestries, large full body trophy animals and fish or other awkward over sized items
$75
Hourly Rate
The one man installation is for small projects, perfect for the  established home or apartment where you may only want to rearrange or add a few pieces. That do not exceed 50 pounds
This rate is for 1 Technician Only. Rate is discounted when additional techs are needed.
Conditions May Apply
$15/Hr
Service Charge Rate
We have a service fee each time you contract our services for a installation. For Wall hanging Customers, we charge the service charge by the hour with a maximum of 3 hours on all jobs for a total of $45
This offer only applies to Wall hanging services only.
Conditions May Apply